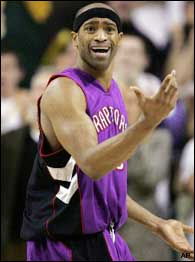 There are few more pleasurable or infuriating looks than the patented Vince Carter sulk. After quite possibly one of his worst games as a professional basketball player Friday night against the Raptors, he had that look going for two hours-plus. The look of a kid whose Power Ranger was stolen by a bully in the playground. Or worse, the look he might display after discovering a ding on his Mercedes in the parking lot of a Ruth's Chris Steakhouse.
And there are few things more hilarious than watching Jermaine O'Neal decide that he'll take Devin Harris one-on-one for a possession.
After watching the Raptors completely demolish the Nets the most glaring thing - outside of putrid performances from the Nets' starting guards - might be that New Jersey really doesn't give a rip about basketball. With a potential move to Brooklyn on the horizon, and more competitive professional sports franchises in the area, you could see that sports apathy has reached East Rutherford in a big way. Tons of empty seats and little fan involvement. The game could've packed more excitement in a local YMCA. Not to mention that eight-foot nets could've helped Carter immensely.
One thing I took away from this non-game (and I say that in the most caring way) is that the Raptors need to make Jason Kapono a pivotal player in their offensive attack. And it looks like Jay Triano might do that. Sure, Anthony Parker rode the bench in his CNN political correspondent duds, and Kapono remained lukewarm from the field for most of the game, but when he started nailing shots he injected the Raptors with a surge of potency like few players on their roster are capable of. Shooters like Kapono keep shooting until they start to fall. And that's what he did.
Another note: does Izod really have enough money to buy the namesake of the Nets home arena? Do people wear Izod? I suppose they do if Izod is still affiliated with Lacoste, but even still, they make golf shirts. It's not like they're making Pepsi.
Despite Devin Harris's lack of offensive output, you can plainly see that Lawrence Frank has done an impeccable job in making him their number one option and unleashing his offensive arsenal. That step-back jumper is deadly.
Another Triano positive has to be the play of Joey Graham. For the first time in years Graham looks like he belongs in the NBA.